Business & organisation
As an asset management firm, Inter Fund Management believes that long-term sustainable competitiveness can only be achieved when businesses create value both for their owners and for other stakeholders, including co-workers, society and the environment.
Read about our Investment approach.
The assets under management include private and long-term equities, infrastructure and liquid assets.
Private equity: we invest globally in the private equity market directly and through funds, secondaries and co-investments. Learn more
Long-term equity: we acquire significant equity holdings in profitable and sustainable European companies. The strategy includes listed, soon-to-be listed and private companies. Learn more
Infrastructure: we acquire holdings in infrastructure companies that are recession resilient and have stable cash-flows. Learn more
Liquid assets: we invest globally in a portfolio of listed securities, mainly equities and fixed income. Learn more
How we are organised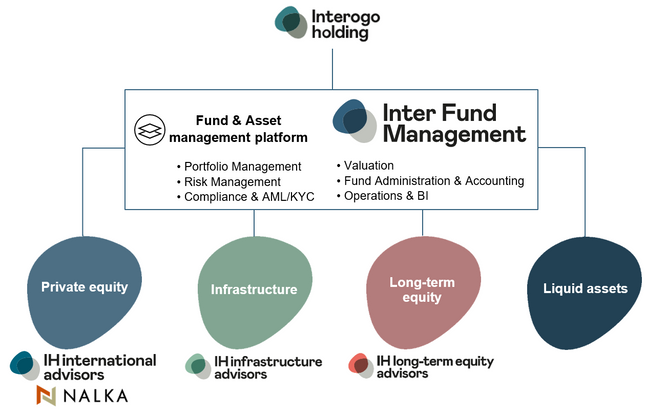 Inter Fund Management as fund and asset management platform provides the below services:
Portfolio management
Risk management
Compliance & AML/KYC
Valuation & Fund administration and accounting
Operations & BI
All activities are performed in Luxembourg, except for the fund administration and accounting activities that are performed by both the Luxembourg office and the Belgian branch.
For the Liquid Assets, Inter Fund Management acts as investment manager with regards to fund construction, asset allocation, selection, implementation and trading of the agreed investment strategies.
For the Private and Long-Term equities as well as the Infrastructure assets, Inter Fund Management acts as the investment manager for the purposes of deciding, agreeing and approving investment and divestment cases that are then implemented. Inter Fund Management forms its opinion on investment opportunities based on advices provided by Internal Group Advisors in charge of proposing investment opportunities.
The investment advisory teams, IH International Advisors, NALKA Advisory Germany, IH Long-Term Equity Advisors and IH Infrastructure Advisors are in charge of performing deal origination, investment due diligence, investment recommendations and investment monitoring.